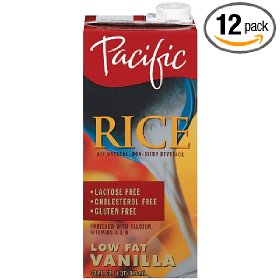 Currently Pacific Natural Foods Rice Non-Dairy Beverage, Vanilla, 32-Ounce Containers (Pack of 12)
is $14.92 with subscribe and save.  Use promo code PACIFCF3 at checkout and bring the price to $14.04.  That's $1.17 per box!
If you decide you don't want to have the item automatically shipped to you, you can cancel at any time.  Simply log into Amazon, go to "My Account", click "manage subscribe and save items" and cancel the subscription.  I have been known to sign up for the discount and cancel my subscription the day my first order ships.

Don't forget, to save even more money, use a swagbucks gift card!