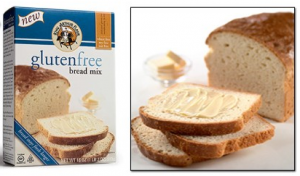 The current offer at Gluten-Free Saver is 51% off Six-Mix Gluten-Free Sampler Pack From King Arthur Flour!  $26 will get the following delivered straight to your door:
1. Gluten-Free Bread Mix
2. Gluten-Free Pancake Mix
3. Gluten-Free Muffin Mix
4. Gluten-Free Chocolate Cake Mix
5. Gluten-Free Cookie Mix
6. Gluten-Free Brownie Mix
While all of these mixes are free from the most common allergens: wheat, nuts, tree nuts, fish, shellfish, soy, eggs, and dairy, the mixes may require eggs and/or dairy for baking.
Looking for more allergy-friendly steals and deals?  Click here.
Thank you for supporting this site by shopping through our affiliate links.  See our disclosure here.